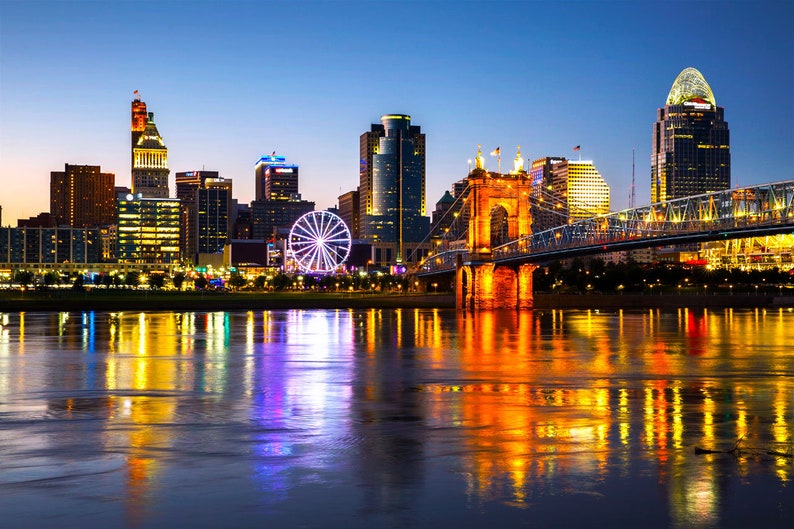 With many wonderful parks to explore, music to which to listen, art to inspire, and food to taste, Cincinnati provides multiple options for Things To Do. If you are short on time, and want an idea of how to make the best of a weekend in Cincinnati, check out The New York Time's "36 Hours in Cincinnati". It includes:
Art and Museums
Parks
Shopping & Sights
Food and Drinks
Breweries
Live Music
Transportation
Art and Museums
From museums and hotels to mural walks, enjoy the numerous opportunities Cincinnati offers to inspire you.
Parks
Although a pretty large city, Cincinnati has made nature a priority. There are many parks throughout Cincinnati that offer different beautiful views, riverfronts, and opportunities to explore. Grab a cup of coffee and walk through one of Cincinnati's iconic parks. For a full list of the Cincinnati Parks and locations, click here.
Parks with a View:
Other Parks to Explore:
Parks along the riverfront:
Shopping and Culture
Shopping and sightseeing in Cincinnati overlap. While shopping, you experience the different wonders of the diverse, eclectic city.
Check out some of the neat locations:
Food and Drink
When it comes to food and drink, it is hard to go wrong in Cincy. Sometimes it's even hard to choose where to start!
Breakfast/Brunch
Hangover Easy (Clifton-Short Vine)
Taste of Belgium (OTR & Clifton-Short Vine)
Tucker's Restaurant (OTR)
French Crust Cafe & Bistro (OTR)
First Watch (Downtown)
Wild Eggs (Downtown)
Cheapside (Downtown)
International Cuisine
Mecklenburge Gardens (German Cuisine, Clifton–Highland Ave)
Corinthian Restauraunt (Traditional Greek & Italian Cuisine, Clifton–Jefferson)
Baladi Restaurant & Bakery (Syrian Cuisine, Clifton-Clifton Ave)
Tea N Bowl Asian Food and Bubble Tea (Asian Cuisine, Clifton–McMillan)
Ambar Indian Restaurant (Northern Indian cuisine, Clifton–Ludlow)
Darou Salam African Halal Restaurant (Senegalese cuisine, Northside)
Caribe (Caribbean Cuisine, Clifton-Short Vine)
Sartre OTR (French Dining, OTR)
Bauer Farm Kitchen (French-German Cuisine, OTR)
Ché (Artisanal Argentine Cuisine, OTR)
Classic Cincinnati Dining
Dewey's Pizza (Clifton-Ludlow)
Skyline Chili (Almost on every corner, Clifton-Ludlow)
The Eagle (Over-the-Rhine)
Salazar (OTR)
Senate (OTR & Blue Ash)
Maplewood Kitchen & Bar (OTR)
Dining, close the UC main campus
Elephant Wok (Clifton-Calhoun)
Keystone (Clifton-Calhoun)
Druken Tacos (Clifton-Calhoun)
Druken Bento (Clifton-Calhoun)
Piology (Clifton-Calhoun)
Dessert
Graeter's Ice Cream (Clifton-Ludlow, Downtown, almost on every corner)
J-Petal (Clifton-Calhoun)
The Sweet Place (Clifton-Short Vine)
O Pie O (Walnut Hills)
Macaroon Bar (OTR)
Quaintrelle Confections(OTR)
Buzzed Bull Creamery (OTR)
Holtman's Donut Shop (OTR)
Coffee Shops
Rohs Street Cafe (Clifton-Rohs St.)
Highland Coffee House (Clifton–Highland Ave)
The 86 Coffee Bar & Concert Venue (Clifton-Jefferson)
Collective Espresso (OTR)
Deeper Roots Coffee (Oakley and OTR)
Lola's (Downtown)
1215 Wine Bar & Coffee Lab (OTR)
Lydia's (Clifton-Ludlow)
Coffee Emporium(OTR and Oakley)
Bars
Murphy's (Clifton-West Clifton)
Brass Tap (Clifton-Calhoun)
Arlin's (Clifton-Ludlow)
Fries (Clifton–Jefferson)
16 Bit Bar (OTR)
The Rook (OTR)
9 Giant (Oakley)
Old Kentucky Bourbon Bar (Covington)
Breweries
You thought deciding where to eat was hard? Well, wait until I give you your brewery options. Also, I heard recently on the radio that Cincinnati was ranked the third best city in America for beer lovers! It has a total of 34 breweries!
These are just the beginning. If you would like a more extensive list click here.
Live Music
Music is a huge part of the Cincinnati spirit. Check out the calendar for these different venues. Maybe you will find something that interests you.